Nov 20: Stanford Starts the Season 3-1

Women's Basketball is back, and even though UConn is supposed to have a "down year," they still remain queens of the hardwood. But what about the Stanford Women's Basketball team?

After a rousing exhibition win over UC San Diego (and Stanford's head coach Tara VanDerveer beating her sister Heidi at the helm for San Diego), the regular season started with a bang. Here are small synopses of the games:

Cal Poly
Playing at home at Maples Pavillion, Stanford handily beat Cal Poly 83-55. The nice thing about this win was we got to see a lot of the freshmen, and for the first time in a long time, we can say there is not a huge drop off when we go deep in the bench. Everybody scored, almost, Shannon Coffee being the lone active player with zero points, and freshie Anaa Wilson was injured and not suited up for the game. See all the points scored in the box score here:

Texas
This was a huge test, as then No. 11 Stanford beat No. 8 Texas 71-59. How did they do it? Stanford drove inside. The score was actually pretty even until midway through the third quarter. Stanford found their groove and drove to the basket, in particular Brittany McPhee and Erica McCall. Stanford also benefited from the very bad "hand check" rule, where if an opposing player puts her hand on the player with the ball, it gets whistled as a foul. Never mind that the hand does not push or shove or alter the dribbling player's trajectory at all. It is a bad rule, as bodies go flying on drives to the basket and on rebounds and nothing gets called, yet the refs have to whistle for the hand check. Once Stanford got their confidence in going inside, and Texas was on their heels, forget about it. Hats off to Brittany McPhee with a career-high 28 points, and Erica McCall with 17 points. Erica had six blocked shots, one off her career high. Box score here.

Texas highlights from Stanford Athletics::


Gonzaga
Remember how we said Stanford found their groove against Texas by driving inside? Well, they lost that groove, and that driving mindset, to unranked Gonzaga, losing 68-63. Stanford could not get the ball inside and was trailing most of the game. Their offense was very stagnant. When you work the ball on the perimeter, you better make some threes. Stanford was 3-18 from beyond the arc. Well, if the threes aren't falling, you better drive inside. And that's what Stanford didn't do for most of the game.

Finally, in the third quarter, Britany McPhee started to drive inside and Stanford was helped by a foul calls. Erica McCall hit some tough jumpers just outside the paint (she would end up with 17 points). Stannie took the lead with 2 minutes left in the third. Then they stopped going inside and Gonzaga got hot from behind the arc and took the lead back with 6 minutes in the 4th. Stanford had the ball and was trailing by 1 with 27 seconds and called a time out. What worked for Stanford the last few scoring plays? Brittany McPhee going left and driving to the basket. What did Stanford do for a must get basket? Britany McPhee driving left to the basket (she would score 22 total points). How many Gonzaga defenders beat her to the spot? Three, with a Gonzaga player named Tinkle blocking her shot (more on Tinkle below).

Wasn't Britany's fault, when you are one-dimensional, the other team can predict. Still, Stanford had a shot with 14 seconds and down by three. Not sure what play Tara drew up in the time out, but Alana Smith inbounded the ball and threw a rainbow across the key to three-point specialist Karlie Samuelson, and the high, arching pass was easily intercepted by Gonzaga.

Let this loss be an eye opener to diversify their scoring options. Know what else drove a dagger in Stanford's heart? A Tinkle. Former Stanford Alum Joselyn Tinkle's little sister Elle plays for Gonzaga and she scored 18 points and added three blocked shots (including the last one on Brittany). She was especially good in the fourth. Jill Barta, the Zags tall athletic center scored 26. Laura Stockton, daughter of NBA great John Stockton, played guard for Gonzaga and contributed 12 points and 4 assists. Full box score.

CSUN
After a bad loss to an unranked team, Cal State Northridge was just want the doctor ordered. And you can bet Tara had the team work on getting the ball inside, and drives to the basket. Erica McCall scored 17 points, Brittany McPhee and freshie Nadia Fingall, benefiting from extended minutes also had 14 and Stanford beat CSUN 88-54. In fact, Tara gave extended minutes to everyone active, and 11 of 12 players scored and grabbed rebounds for Stanford. Passing was also crisp, and Stanford had 19 assists.

What's next? Stanford will travel to the Cancun Challenge for Thanksgiving, and will take on Northeastern (Nov. 24), Wichita State (Nov. 25) and Purdue (Nov. 26). Guess who is following? C and R will be live tweeting from games…except if we book a snorkeling or boogie boarding excursion…or I can't figure out how to do wifi in Mexico. Look for us over your Thanksgiving!!
---
Oct 3: Women's Basketball is Back!

The Stanford Women's Basketball team had their first practice this week and games are right around the corner. Always fun to get a sneak peak at the freshmen, yet we are missing some familiar faces, too. Senior guard Lili Thompson opted out of playing, although she is still at Stanford and is on track to graduate with her class. Kailee Johnson will forego her senior season, graduate two quarters early and pursue a career in real estate investment. Gotta strike while the market is hot.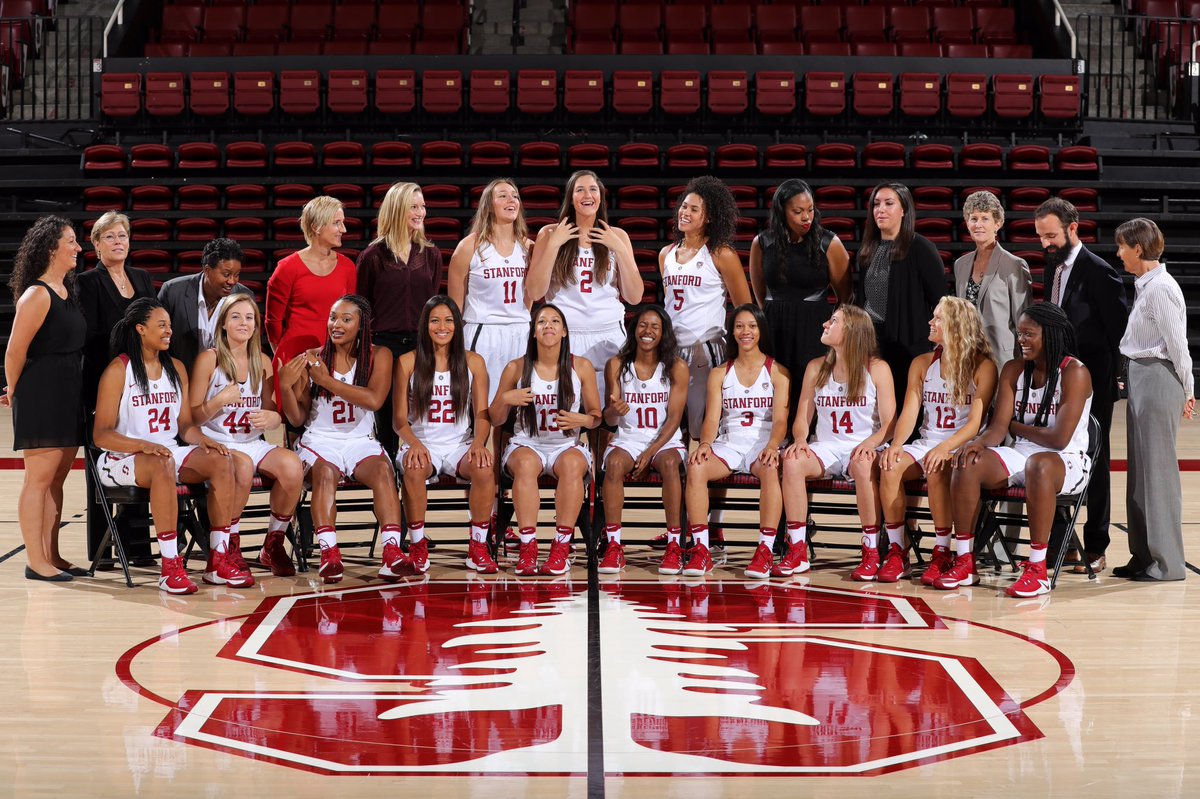 The Stanford Women's Basketball Team 2016-17
The Stanford Women's Basketball website also has a new look and feel (thanks to them I had to redo all my links), and here is a cool page on Cardinal Facts.
Check out their first day of practice (and why is Karlee Samuelsson wearing a cast?)
Can't wait for the season to start!
---
May 16 Stanford Season Recap

Okay, now that the sting has finally worn off of Stanford losing in the Elite Eight to Pac-12 foe Washington Huskies, we can look back at the year in review.

The season was up and down, with Stanford going exactly 5-5 against AP top 25 teams. The up was highlighted by an epic, 90-84 upset of top-seeded Notre Dame in the Sweet 16 in Lexington, Ky. And down; consider this chilling fact: This season was the first since 1999-2000 that the Cardinal did not win some form of a Pac-12 championship - regular season or tournament.

There were some post season awards for Stanford.  Erica McCall was named to both the All-Pac-12 squad and the Pac-12 All-Defensive team, Lili Thompson earned her second All-Pac-12 nod and was a Pac-12 All-Defensive honorable mention, Karlie Samuelson was picked All-Pac-12 Honorable Mention, Kaylee Johnson earned a spot on the Pac-12 All-Defensive honorable mention team and Marta Sniezek was a Pac-12 All-Freshman honorable mention pick. Stanford now boasts 70 all-time Pac-12 all-conference honorees, the top total in league history.

And, this being Stanford, not all awards are won on the hardwood floor. Some are won in the classroom (nerd nation).  A psychology major with a 3.53 cumulative GPA, Erica McCall was selected to the 2015-16 CoSIDA Academic All-District Women's Basketball Team on Feb. 11. Her honor continued a run of five straight years with a Cardinal receiving academic all-district accolades, the longest streak in the Pac-12. Other players receiving academic honors: Kaylee Johnson landed on the Pac-12 All-Academic second team while Brittany McPhee, Erica McCall, Karlie Samuelson, Lili Thompson, Briana Roberson and Kailee Johnson each earned a spot on the Pac-12 All-Academic honorable mention squad.

And, Stanford's victory over Oregon State on Feb. 26 was the 1,000th in Cardinal program history.

The Stanford program won their 1000 game this season. Coach Tara VanDerveer has 828 of those victories!
But don't worry about Stanford head coach Tara VanDerveer. She is now 20 victories away from joining Pat Summitt as the only NCAA women's basketball coaches with 1,000 career wins. And, according to sources, Stanford's Tara VanDerveer will have loaded team next season. Did we mention we are getting three McDonald's All-American, including Russell Wilson's sister?
Early Preseason polls have Stanford at #10, with five Pac-12 teams in the top 25. The even better news is UConn is not ranked number one. Or even number two. They are fourth. Wow.
Having Basketball withdrawals? The WNBA just started, and the Olympics in Rio is right around the corner!
---
Whew, you made it to the bottom of C and R's Stanford Women's Basketball Blog!

Back to the Top of the Blog


or check out the other months of C and R