Mar 5: Stanford wins Pac-12 Tournament
C and R will admit, it did not look good for the Stanford Women's Basketball team in the championship game. They made it to the finals of the Pac-12 Tournament, after losing to Oregon State in the regular season to lose a share of the regular season title, and wanted some redemption. With some good luck bouncing their way in the tournament, Washington losing in the earlier round, they breezed through Washington State and held off a pesky Oregon team to be here in the big lights. And their opponent? None other than the Oregon State Beavers, the team that had their number, beating them twice in the regular season (although it took double over time in the first match-up).
So when the tip off happened, and Stanford faced the Beavers, Stanford found themselves quickly down, 16-3. This did not look good. Stanford did the same to the Cougars two nights ago, and they could never recover. Stanford was down 12-22 at the end of the first quarter. This match up was billed as two defensive-minded teams facing each other, but 12 points?
Then, Alanna Smith to the rescue. The sophomore Aussie came off the bench to help Stanford slowly claw their way back in to this game offensively. She had 12 points for the half, and some good boards and blocks. Stanford found themselves *only* down 29-23 at the half. That score was somewhat misleading as OSU's prolific score, Sydney Wiese, hit a crazy, banked-in three at the buzzer, even with Bri Roberson's hand in her face.
Okay, let's talk defense for a moment. OSU had 29 points at the half. But they scored 22 in the first quarter. Stanford's defense held them to just seven points in the second quarter, and Syd Wiese to just five points for the two quarters. Take away that crazy three and OSU is really hurting.
Coming out of the locker room, after a quick peptalk/anger management session with their Hall of Fame coach Tara VanDerveer, the defense rose up again. Alanna got the start and Stanford tied it at 34 all with 3:24 to go on the third. The third quarter ended with OSU hanging on to a 36-34 lead.
Let's do some more math shall we? Oregon State only scored SEVEN points in the third quarter. That is not de ja vu. Or maybe it is. Let me rephrase, that is not a typo!! Stanford's defense again came up big, holding OSU down, and Sydney Wiese to just eight points through three quarters.
Fourth quarter, and it was all Stanford. But C and R you say in a high, falsetto voice, isn't this where OSU's scorer, Sydney Wiese makes her presence known and takes over the game? Isn't this where she knocks down threes?
Sure, C and R answer, she hit a three. ONE three. One three for the quarter. It was Oregon State's ONLY field goal of the fourth quarter. They only scored SEVEN points in the fourth quarter. Of a CHAMPIONSHIP game!! The Beavers went 4-for-24 from the field over the final 20 MINUTES! And now I broke my cap lock button.

Coach Tara VanDerveer hoists the Pac-12 Tournament trophy
Photo by Eric Evans
Defense wins championships. Of which Stanford now has 12 of them. Pac-12 tournament titles. Of which is the most in conference history. And gets the Pac-12's automatic bid to the NCAA Tournament. And C and R continue their streak of incomplete sentences.
Other notables, Alanna, the hero, had 18 points, including one 3-pointer for Stanford. Karlie Samuelson had 14 points, and made two 3-pointers. Erica McCall struggled under the basket, and OSU paid a lot of attention to her, and she ended the game with eight points and eight rebounds. Brittany McPhee also looked off and had six points and six rebounds, as Stanford must like square numbers. Syd Wiese for OSU finished the game with 13 points, below her average. C and R admired how she handled the handshake line, giving Stanford lots of respect, so we gotta respect her back. They will be in the NCAA tourney, for sure.
After the game.
Alanna was named to the all-tournament team, and Erica "Bird" McCall won Most Outstanding Player. Stanford gets the automatic bid to the NCAA Tournament, although Stanford fans (such as C and R) don't get to see them play locally as Maples Pavilion is hosting the Pac-12 gymnastics championships. Huge Bummer. Home field advantage is huge, and Stanford tends to play better at home. Looking forward to the March Madness!
---
Feb 26: Stanford closes out regular season in a tie for Second in the Pac-12

Going in to the last weekend of regular season basketball, The Stanford Women's Basketball team controlled their own destiny. They had two games left on the road in Oregon (or as my sister-in-law likes to say, Or-E-gone). A win against the Oregon State Beavers in the second-to-last game would guarantee them first place in the Pac-12 league, a shiny trophy and the number one seed in the Pac-12 tournament, where winner gets an automatic bid to the NCAA tourney. You couldn't write a more perfect script.

Except Stanford forgot to study the script. They came out against the Beavs flat, and did not look like a team fired up to win a championship. Give OSU some credit for having lock down defense, and a scorer named Sidney Wiese, and Stanford could not get anything going offensively. OSU shut down Stanford's three-point specialist Karlie Samuelson, as well as the rest of the team from behind the arc, and with no made threes, (0-8) and only 47 total points on offense, they did not look like a championship team. They did hold OSU to 50 points, but losing 50-47 hurts. Probably the biggest differentiator was rebounding, in that Stanford forgot how. They box score says it was OSU 47 to Stanford's 37, but it seemed a lot more lopsided than that, nothing more frustrating as a series for OSU with FIVE O boards!

Still, Stanford could have won the regular season if Cal beat Oregon State and Stanford closed out the season with a win against the Oregon Ducks. Stanford did bounce back to get the win at Oregon, 65-59, but they still did not look like a championship caliber team. Cal, the one time we rooted for them, lost. Still, you can't place your destiny in someone else's hands, as more often than not you will come up short, as Stanford did.

Special shout outs to seniors Karlie with 18 against the Ducks, Erica McCall with a double double (16 points, 14 boards) and Stanford's favorite beach player as of late, Alanna Smith with 14.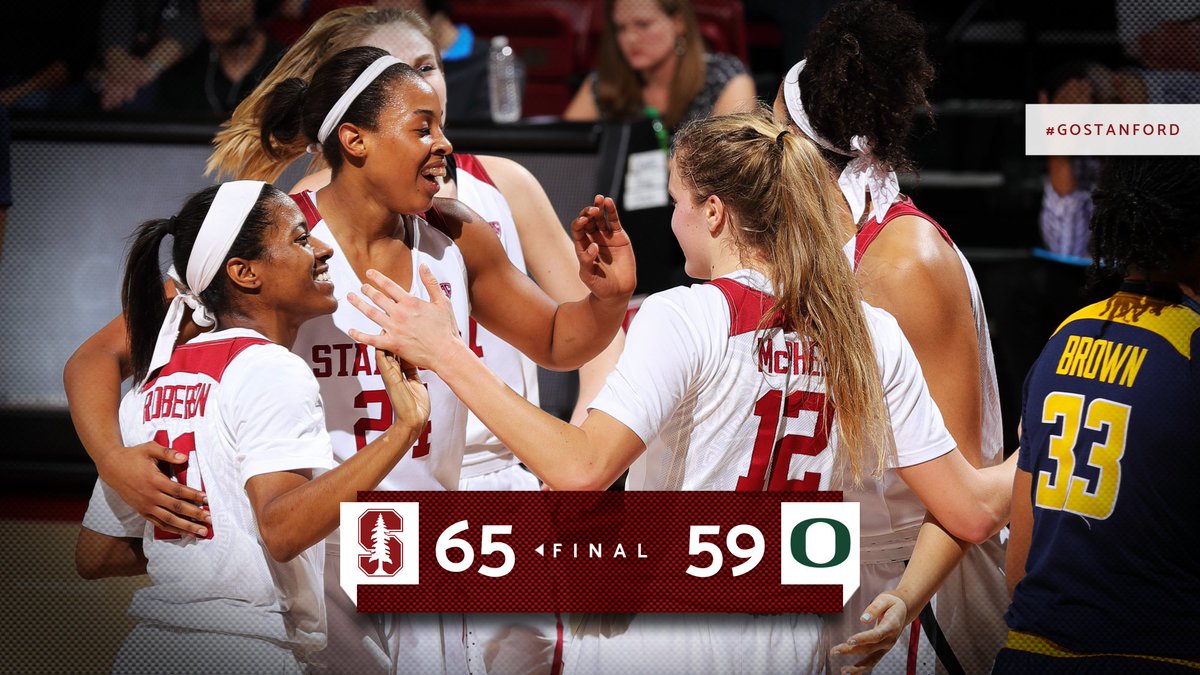 Stanford beats Oregon, ties for 2nd place in Pac-12.
Photo courtesy of Stanford WBB.
So Oregon won the Pac-12 regular season title with a 16-2 record, and Stanford tied with Washington for second with identical 15-3 records. Stanford gets the number two seed at the upcoming Pac-12 tournament, due to a tie breaker that C and R can't figure out. Point difference in the two games vs Washington, maybe?
So, to recap, Stanford gets a first-round bye for the Pac-12 tournament in Seattle March 2-5 and will play the winner of No. 7 Washington State and No. 10 Colorado on Friday at 6 PM. Tune on to all the games, as you will witness history every time Washington's Kelsey Plum scores. She just broke the career points scored for D1 women's hoops, needing 54 points in the next few games. She decided to just get it out of the way and scored 57 in one game. So any more points she scores is gravy.
Once again, Stanford controls its own destiny with the start of this tournament. Run the table, win three games in a row this weekend, and they still get the shiny trophy and the Pac-12 tournament champions moniker, and most importantly, the automatic bid to the NCAA tournament.
---
Feb 4: Tara VanDerveer Celebrates Special Win #1,000

We get so used to seeing wins out of the Stanford Women's Basketball team, with Tara VanDerveer at the helm. So used to catching victory balls on the home court at Maples Pavilion after those wins. So used to cheering in the face of opposition the times we venture off campus to support the team in a road game. These wins always send C and R home with a smile. However Stanford's win over USC on Feb. 3 was truly special.

We got to celebrate career win #1,000 for Tara VanDerveer and look back on her legendary career. Tara, in her typical understated-ness said this was pretty much like any game, and would be on to victory #1,001 shortly after. However, it was great to see the joy her players had for being part of this historic run and this particular victory.

There was Erica "Bird" McCall, all fist-pumping and fired up for hitting a three at the half time buzzer to put the team up 31-22, and running C's streak of free pizzas (She had guessed 30 points at the half). There was the pure unadulterated glee as Erica and Karlie Samuelson caught Tara unaware as they held a huge orange Gatorade Bucket over Tara's head, her body language prepared to be doused, only to find out it contained confetti. And the pride the three seniors had, Erica, Karlie and Bri Roberson, presenting Tara with a commemorative plaque with a Stanford jersey with "Vanderveer" on the back and the number 1,000.

Stanford Coach Tara VanDerveer celebrates win #1,000.
Photo courtesy of Stanford WBB.
Final score, not that anyone cares, was 58-42, a low scoring affair for Stanford. Wonder if emotions had anything to do with it? The game was close until the third when Karlie Samuelson hit three 3-pointers in quick succession and added a jumper at the buzzer to help Stanford pull away. She would finish with a game-high 21 points. Erica added 18, and Brittany McPhee chipped in ten.
But when the final seconds ticked down, and Maples began chanting and cheering, the final score did not matter. More confetti rained down from the ceiling, Pac-12 commissioner Larry Scott gave Tara a commutative trophy. Former player and now much-in-demand TV analyst Ros Gold-Onwude (we said hi, she knew who we were!) summed up the night for the crowd, and finally the microphone was given to the coach herself.
Believe it or not, she, the master of dead-panned humor said she was speechless! Then in traditional Tara fashion thanked many and deflected glory. For Tara, echoed the many articles written before the game, the game is not about the victories but about the relationships. A wonderful video tribute played with so many people stating what Tara means to her, including many Stanford fan favorites of ex-players.
The night was attended by some of those players, such as Jennifer Azzi, who said more than a coach, Tara has been her friend for life. The game just happened to coincided with National Girls and Women in Sports Day, and in the lobby before the game, C and R walked by Simone Manuel and Katie Ledecky giving autographs and in Simone's case, wearing flippers on dry land to race a young fan in a swim rely. At half time, Stanford introduced the National Champs in Women's Volleyball, and just "a few" of Stanford's Olympians, including Ledecky and Manuel. You know, every day people you might see in class if you went to Stanford.
So yes, it was great to make a big deal out of one victory for Tara VanDerveer, lest we forget every victory is special in its own way. Bay Area sports fan, we are lucky to have such a person who strives for success, yet puts more emphasis on watching and helping her players grow.
---
Whew, you made it to the bottom of C and R's Stanford Women's Basketball Blog!

Back to the Top of the Blog


or check out the other months of C and R